Colour MFP Printers
HP Designjet T830 MFP
HP Designjet T830 Multifunction Printer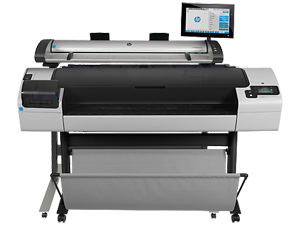 Print, scan, copy, and share—robust, compact 36-inch Wi-Fi MFP for office and construction
Half the size,2 built to last—this robust MFP handles activity at challenging sites, even construction
Produces prints 3 times faster than previous HP models—see A1/D-size prints delivered in 28 seconds
Choose from 40- to 300-ml HP ink cartridges to fit your print volume, large supplies can reduce interventions
Transport and onsite dust, damage protection with optional HP DesignJet Rugged Case
Hewlett Packard DesignJet T830 MFP brochure
PRODUCT CODE F9A30A. RRP – £3,970. CALL FOR BEST PRICE
HP Designjet T2530 MFP
HP Designjet T2530 MFP
Dual-roll 36-inch, 6-ink integrated MFP for professional-quality CAD and GIS applications. Print/scan/copy, share—maximize workgroup productivity, enterprise security
Present your work in precise, detailed color rendered with 6 Original HP inks including gray and photo black
Make your architectural prints shine with professional, high-resolution graphics—opt for Adobe PostScript®
Produce professional CAD and GIS drawings with consistent color accuracy, crisp, sharp lines, up to 2400 dpi
Produce fast, high-quality results—get A1/D-size prints in 21 seconds (120 A1/D pages per hour)
Hewlett Packard DesignJet T2530 series technical details
PRODUCT CODE L2Y25A. RRP – £7,500. CALL FOR BEST PRICE
HP Designjet T2530ps
PRODUCT CODE L2Y26A. RRP – £9,265. CALL FOR BEST PRICE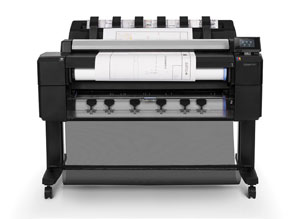 HP Designjet T3500 Production eMFP
HP Designjet T3500 Production eMFP – B9E24A
The most productive large-format color MFP1 —prints up to size E/A0
All your workflow needs in a high-productivity MFP
Built for rigorous IT demands and top security
A production printer for unattended, low-cost use
RRP – £10,680.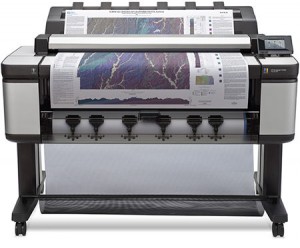 Canon
Canon imagePROGRAF MFP M40 Solution
Canon imagePROGRAF MFP M40 Solution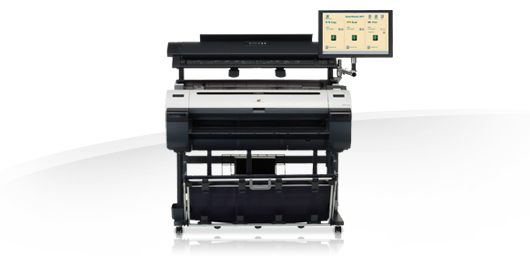 Designed for practicality and usability
The imagePROGRAF MFP M40 Solution is a total workflow system for anyone who needs to scan, copy, archive and distribute large format documents quickly and easily with remarkable accuracy and detail.
Benefits
Complete Scan-to-Copy / File / E-mail / Cloud Connectivity and Print Solution
SingleSensor (CIS) for high quality and accurate scanning
Bi-directional LED light system for optimum object illumination and instant-on response
Up to 13 inches per second scanning
1200dpi optical resolution
22″ LCD Touch screen interface
Next generation SmartWorks MFP Software for intuitive and flexible operation
Scan to PDF, JPEG and TIFF
2,400 x 1,200 dpi fast printing with Flat Stacker/Basket
Océ ColorWave 300 2nd edition
Océ ColorWave 300 2nd edition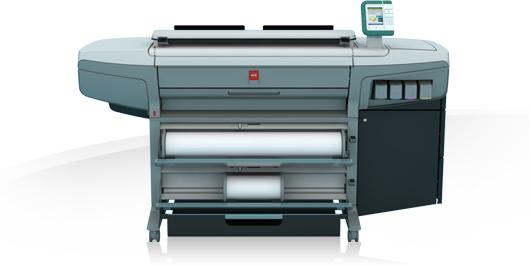 Unique large format copier, multifunction printer, color plotter and scanner
Copy, print and scan in color and black & white with this large format printer. The Océ ColorWave 300 2nd edition adds productive featuring to the proven Océ ColorWave 300 concept. The Océ ColorWave 300 wide format all-in-one printer saves floor space thanks to its integrated color scanner. The unique Top Delivery Tray stacks large format documents neatly on top of the system. The powerful controller effortlessly processes all your color and black & white technical document tasks. Take the jump to one with the Océ ColorWave 300 large format printer.
Benefits
Save floor space with one compact large format printer for all color and black & white tasks
Save collation time and floor space with the unique Top Delivery Tray for stacking large format documents on top of the system
Eliminate waste and faulty copies. Océ Image Logic ensures first-time-right results for wide format color scanning and copying
Increase productivity by fast file processing of all file formats: HP-GL/2, DWF, JPEG,PDF and many more
More production power with the integrated online fanfolder or fullfolder
Océ ColorWave 500
Océ ColorWave 500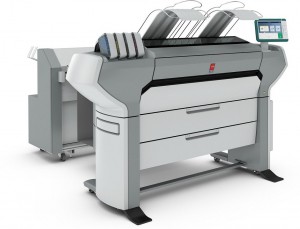 All-in-one, colour work-group printer for CAD/GIS and graphics applications. The Océ ColorWave 500 is the ideal solution for work-groups, featuring powerful technologies to support CAD, GIS and graphics applications with instant-dry and water-resistant prints.
Specification and features can be found in the Canon Colorwave 500 brochure